Graham Gough Testimonials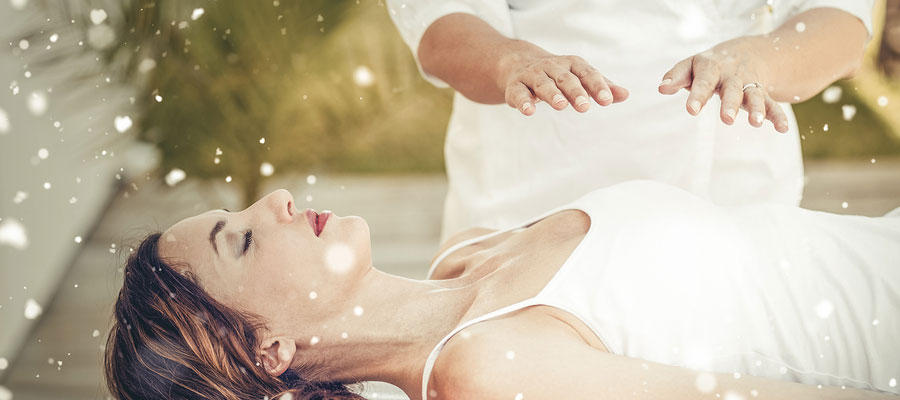 Emotional Well-being
"I am very grateful to Graham for all his help he is an exceptional character with a lot of insight and can help transform lives.
"I first went to see Graham over an emotional issue, I had lost my confidence and needed to find my voice again. We dealt with many issues along the way and I felt it was a safe environment to express my pain. The more Graham knows about each individual case the more help he can provide. He has a caring demeanor and instantly makes you feel at ease. He also has a touch of insight and often sees patterns that the client is either aware of, or oblivious to, but either way this helps the client grow.
"When Graham gets to work not only is it relaxing but you feel the energy coming from his hands, which is quite literally amazing. The addition of sound therapy adds to the overall healing effect and sends you off into a place of Bliss. It takes a while for the therapy to get to the core of the issue and many problems can rise up within you while you are receiving treatment i.e. you could become weepy, cross or assertive etc. From what I can gather, your body is simply adjusting to the change in energy, but stick with it as it is all part of the healing process, think about it, how many years did it take you to get into the predicament you are in?
"However, it really often only takes weeks to turn issues around. I have this saying in my head since attending Graham that sums up the therapy perfectly "Change your energy, change your life".
"The Therapy overall offers people relief and has a positive effect emotionally and physically. It gets to the root of many problems, it is a gift in itself and I wouldn't hesitate to recommend Graham. I love Bio Energy so much, that I have decided that I am going to train as a Bio Energy Therapist myself. Many thanks Graham for all your help and support, you have helped me tremendously and I will be forever grateful."
48 year old, Co. Meath
Emotional Well-being
"Graham Gough is a very intuitive, gifted and empathetic healer. I went for a few courses of Bio Energy Therapy sessions usually once a week for a few weeks to feel the remarkable benefits on my emotional health, I was in a very vulnerable part of my life emotionally that affected both my physical and emotional well-being, he worked on me with the Bio Energy and always gave me a safe non judgmental space to work through my blocks, I found initially after the first treatment an immediate improvement and astonishment at the power of Bio Energy Therapy, it really works from the inside out.
"After 2 courses 5 treatments I felt totally revived, more energy and so calm also joy came back to me stronger than ever. I could not recommend Graham more, his natural gift, his warmth and passion for what he does is astounding. I now go for a Bio Energy treatment as a treat every month or so as I do value my new found health and know Bio Energy is the most powerful therapy out there thanks so much Graham."
45 year old, Co. Leitrim
Henoch-Schonlein Purpura (HSP)
"My 9 year old niece was rushed into Temple Street Hospital and diagnosed with Henoch-Schonlein Purpura (HSP).
"HSP is a disease involving inflammation of small blood vessels, it most commonly occurs in children. The Inflammation causes blood vessels in the Skin, Intestines, Kidneys and Joints to start leaking. The Main symptom is a rash with numerous small bruises which have a raised appearance over the legs and buttocks.
"HSP can cause kidney problems and in most cases kidney impairment is mild and goes away without any long-term damage however 5% of patients may develop progressive kidney disease and 1% May go on to develop total kidney failure.
"As a result I brought my niece to see Graham. On the first visit, Graham worked on her for about an hour (after she stopped giggling!) He is am exceptionally calm and reassuring gentleman and has a true gift of healing.During this time, she had to have weekly visits to the GP with a urine sample and to check her blood pressure.
"On the second visit (with no giggling on this occasion), he worked on her again for about an hour, he said he could sense something around her head at her ear. Two days later, her grommet fell out and she has had no problem with her hearing since (we never mentioned the problem with her ears to Graham). She had been to an Ear Specialist on several occasions.
"After the two visits with Graham, her urine was clear and she didn't have to see the GP again. I truly believe that Graham really helped my niece with his healing. I only brought her twice to see him and she got the all clear from the GP the following week.
"I have no hesitation in recommending Graham to anyone in need of help. I have told a couple of people about him and they have also been to see him with amazing results.
"Thank you Graham, you are a true Gent."
38 year old Aunt, Co. Dublin
Pet Injuries
"Jessie Nine Lives"
"Our beloved dog Jessie was knocked down outside our house,she was only a 15 month old pup. The road is very busy, it's a main road the car involved sustained a lot of damage.
"Jessie was unable to move following the incident, a driver stopped and brought her to the local vet, she was very shocked and in a lot of pain, the vet was not very hopeful for her, he felt she may have broke her hind legs and spine however she was too shocked and weak for examination, she spent that night in the vets, she came home to us the next day, we were waiting over the weekend for her to go for an MRI and get a better picture of her injuries.
"Graham sent Jessie a distant healing that night and within 20 minutes of this we noticed an improvement in her, she was a lot more comfortable in less pain and generally more like her old self, Graham sent more healing the next night and Jessie continued to improve eventually standing, she never had the MRI and the vet calls her "Jessie Nine Lives", she made a remarkable recovery, we are very grateful to Graham, that was 6 weeks ago and Jessie is now totally back to herself."
15 months (in dog years!), Co. Meath
O.C.D.
"I suffer a lot with O.C.D. thoughts for the last eight years of my life. I've been on medication and some have helped me, but when I got pregnant fourteen months ago I decided that I did not want to risk any complications with my pregnancy by taking prescribed medication for my illness.
"A friend of my sister told me about Graham so I decided that through him I would go through a healing process for my illness whilst I was pregnant. By making this decision of withdrawing my medication Graham has helped me reduce my O.C.D. and also managed to clear verrucas from my feet of which I battled with for years using all prescribed procedures. In doing this it has taken a lot of my anger away from me.
"Graham has also helped keep me calm in my pregnancy where in previous pregnancies I was constantly stressed and had a lot of anxiety. My labour went extremely well in which I was only in labour for one hour with no complications stress or panic.
"When my beautiful daughter was born I felt so happy and relaxed. This has proved to be the case as my daughter didn't cry and drank her first bottle just minutes after she came into my world. To this day with the help of Graham, my daughter and I continue to share calmness and a loving bond.
"I truly wish that I had known Graham earlier in my life, even for my earlier pregnancies because I believe my mind and body would not have been through the stress it had then.
"On a regular basis I still use Graham's healing for my O.C.D. thoughts. During the healing I can be tearful but by the end of the session I am full of laughter.This is due to Graham's work. I cannot recommend Graham highly enough to individuals that are going through the same situation I was in before I met him, He makes you feel so comfortable. I would once again thank Graham for all his help."
30 yr old, Co. Louth
Multiple Sclerosis
"Five years ago I went to the Doctor with pins and needles coming from my neck through to my hands when I bow my head. In January 2014, I was called in for various tests and diagnosed with Multiple Sclerosis in June 2014. I have many things physically that are not quite right at the moment.
"My digestion has been bad for a long time and I suffer from constipation regularly and as a result have internal haemorrhoids. My tongue is in patches and cracks as well as swollen and is sore. I get a lot of headaches. Overall stiffness throughout my body. All the joints on my left side are causing pain and weakness ie. shoulder, wrist, hip, ankle of which hip is the worst.
"Lately I get a burning sensation under my right shoulder blade which is achy pain and I can also feel the pins and needles sensation on the right side of my head and face which is only happening about one month.
"I got in contact with Graham through my father whom met him through a friend. He has a very professional and friendly approach and I felt instantly comfortable to be open with him, he has given some very useful advice and he takes a holistic approach to the treatment.
"I had treatment through Distant Healing and found it to be powerful and effective. My energy levels have improved and the muscle stiffness I was experiencing has cleared up, among other positives from changing my diet.
"Graham has provided me with a fantastic service and I would encourage anybody with an ailment to get in touch with him."
31 yr old, Cork
Colon Tumour
After just 9 days, my colon tumour decreased by over half, leaving my operation to take less than half the time, making everyone amazed by my recovery. I'm just glad I went to Graham at that time in my life.
70 yr old, Co. Louth
Multiple Sclerosis
I was diagnosed with MS in June 2014. I had overall stiffness throughour my body and all joints on my left side causing pain of which my hip was the worst affected. I had treatment through distant healing and my energy levels have improved and the muscle stiffness I had experienced cleared. I would encourage anyone with any ailment to get in touch with Graham.
31 yr old, Cork
Depression and Anxiety
I was diagnosed with depression several years ago. After several different treatments, somebody suggested I attend Graham. After just a few sessions, I felt my depression lifting a my confidence coming back. I continue to attend Graham in which he uses sound therapy to help my depression. Graham's professionalism is outstanding, I cannot recommend him highly enough.
35 yr old, Co. Meath